Computer controlled local anesthetic delivery system (CCLAD System) with many advantages
Offer your patients a gentle and painless dental injection – and enjoy a relaxed and ergonomic working position. The patient's comfort is increased and the trust between you and your patients will be strengthened.
Dentists statements about painless dental injections with CALAJECT™
"I have to say that right from my very first use I have been as impressed as my patients. The learning curve was very short (almost none) and patients have not been able to feel anything on many of the injections and hardly anything on the others. So far I have not had a single patient have a bad experience, all have been successfully anaesthetised and it also seem to me that they are numb quicker"
"I have been using computer-assisted analgesia for many years. CALAJECT™ is extremely easy and intuitive, and for analgesia I now use needles and cartridges like for a carpule syringe. CALAJECT™ is very modern, I liked its design and special programs for different types of analgesia. In practice, the system that controls tissue resistance is also very useful - the device turns off automatically when tissue resistance is too high. Thanks to this, I am certain that the patient won't feel expanding and pain."
"Electronically controlled anesthesia is an indispensable part of our daily practice. When you ask our patients, and we ask after each anesthesia, the unanimous opinion is that this is a landmark. We sit relaxed by the patient, can support us comfortably, the patient does s not jerk and asks after the injection, if we did anything. This positive experience excites dentist and patient - and believe me, the patient tells it on"
Local analgesia is simply a standard procedure for all practitioners. However, the expectations from patients are growing and they demand that the local anesthesia itself takes place painlessly. I tested many devices of this type in my practice over several years, but I remained faithful to my experience with the reliable carpule. But everything changed when I got to know the CALAJECT™ device. Today, the aesthetic and modern, small device is my faithful companion. And the patients ... well, they are delighted."
"I provide more patient friendly injections today, than I did when I injected manually. In nine cases out of ten I only need to do intraligamental injection or infiltration, which means less analgesic solution per patient. From the pressure control I receive very good feedback, that tells me if I have placed the needle right - that the solution is not just leaking back."
"It puts out a clear signal that the clinic is using the latest technology. In other words, we are investing in our patients' wellbeing."
"CALAJECT™ is amazing! It has clear advantages over the device I used to work with. It allows me to do all types of local anesthesia tics. I avoid waste of anesthetic liquid and cost of disposable hose sets – only need the standard needles and cartridges, I use for manual anesthesia. It is also easy to clean."
"CALAJECT™ can create life-long and loyal patients due to its pain-free injections. It has become an indispensable element of the pain-free dental treatment that we offer."
Computer controlled injection has an incomparable ergonomic advantage over manual injection, as you do not need to bend your wrist and press the plunger simultaneously. I can sit relaxed and inject. I have a greater success rate with nerve blocks - and the low computer controlled injection rate makes it virtually pain free for the patient.
Why should you consider painless dental injections with CALAJECT™?
There are several of good reasons, why you should choose painless dental injection with CALAJECT™. Here is an overall overview of the experiences that dentists have made.
Reduces dental fear and increases the patient trust
The anesthesia is automatically injected with a smooth and gentle flow of anesthesia and is perceived pain-free.
You can use the time, when you carry out the injection, to calm patients with anxiety for needles or dental fear, and therefore create a better dental experience as well strengthen the trust between you and your patient.
A better ergonomic working position and precise injection
The CCLAD system gives you a better ergonomic and relaxed working position. The Handpiece is designed as a pen, which allows you to place your fingers close to the injection needle, which gives you optimal support – even when performing the most difficult oral injections – therefore you can hold the needle perfectly still in situ.
Easy to use – simple and intuitive to operate
CALAJECT™ consists of three sub-parts:
Control Unit, Handpiece with Stand, and a Footswitch. These are very simple to operate and use in your dental clinic.
Minimal waste and cost effective
You just use the standard dental needles and cartridges that you are normally using. No additional single-use materials are needed, which make CALAJECT™ an eco-friendly and cost-effective solution for your clinic.
Battery powered - Easy to move
CALAJECT™ is battery powered, and does not need to be connected to an outlet all the time. Therefore, you can easily move CALAJECT™ around and place it on the instrument tray or just where you need CALAJECT™. Charging can be done overnight, for example, so that it is ready for use the next day. Charging time is approx. 3 hours, and operating time approx. 5 hours on a full charge.
The minimalistic design is also hygienic
The clean lines and smooth surfaces of the device makes it easy to clean and keep clean.
Danish Design of the highest quality
CALAJECT™ is produced in our own production facilities in Denmark, which allows us to preserve a deep technical know-how and to maintain a close quality control throughout all processes. This gives you a top-quality product.
Friendly customer service – always at hand
We have deep product knowledge of our own manufactured products, and we are always ready to help you use CALAJECT™. Should it occur that the product needs service, it will be quickly fixed at our own facility in Denmark or at an authorized dealer's repair shop. 
Why perform CCLAD with CALAJECT™?
In this video, you can see how the Danish Dentist Anders Boel uses CALAJECT™ and he explains why he uses CALAJECT™ in his own dental practice.
Painless dental injection with CALAJECT™
CALAJECT™ helps you deliver painless anesthetic injections. The system controls the flow rate, which ensures a smooth and gentle flow of anesthesia. So controlled that even palatal injections can be carried out with less discomfort for the patient.
CALAJECT™ helps you to perform all common local anesthesia (LA) methods in dentistry
CALAJECT™ is a versatile CCLAD System for all LA methods: Intraligamental, Palatal, Infiltration and Regional nerve block.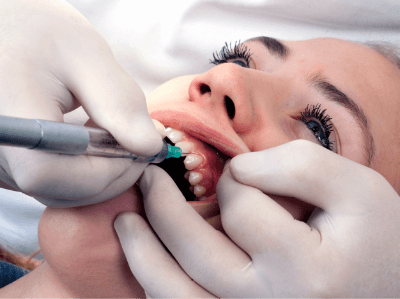 Program 1: Intraligamental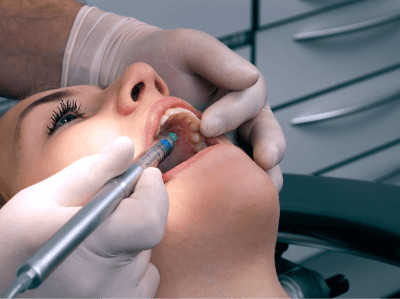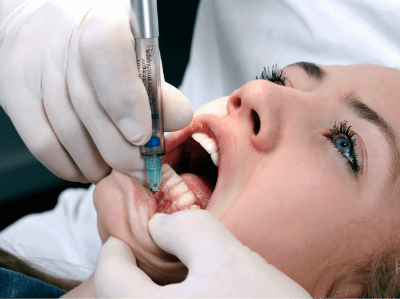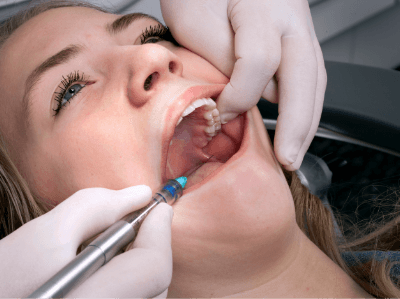 Program 3: Regional nerve block
CALAJECT™ is easy to operate
CALAJECT™ CCLAD system consists of three units: Control unit, Handpiece incl. stand and foot pedal. The three units are simple to operate. Characteristic of all of them is their minimalist design, which makes them easier and faster to clean and more durable, as the units do not consist of lots of loose parts, but large surfaces.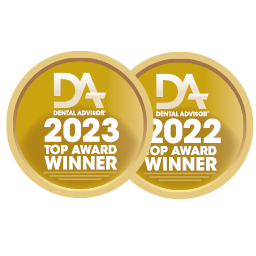 We are proud that CALAJECT™ has received Dental Advisors finest acknowledgement as the "Top Award Winner – Anesthetic Device" for the second year in a row!
CALAJECT™ was evaluated by six Clinical Consultants and used 153 times in total. You can read the full evaluation report here.
The highlighted features were:
Ergonomic unit with small footprint
Good visual displays and auditory signal
Controls flow of local anesthetic
Automated aspiration
This is what the test participants say about CALAJECT™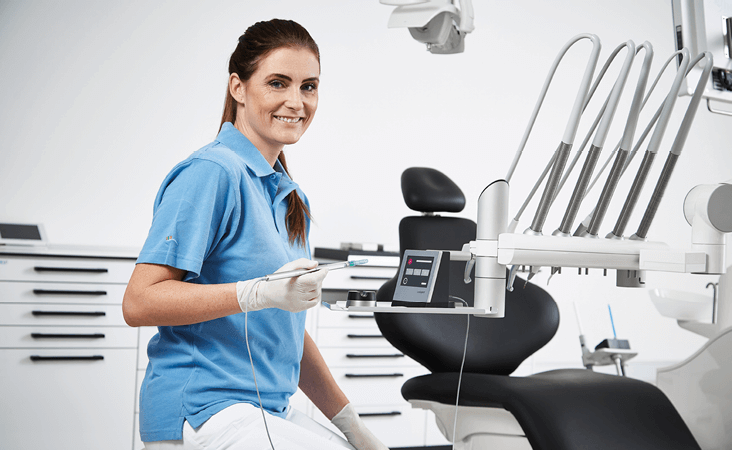 Is CALAJECT™ right for you?
Select "Buy CALAJECT" and find a dealer in your country. If there is no dealer in your area, please do not hesitate to contact us.
Internationally recognized
We can reveal that CALAJECT™once again received international recognition. CALAJECT™ has won these Awards:
Dental Advisor Top Award Winner 2022 & 2023

Dentistry Today – Top 50 Technology Products 2023
Dentistry Today – Top Innovative Product 2022
Dentistry Today – Top 50 Technology Products 2022
Dental Products Report – Top 100 editors choice 2022
We are very grateful for these recognitions
Watch our videos and learn more about CALAJECT™
CALAJECT™ - Why computer assisted local anesthesia?
CALAJECT™ - An Introduction
Get more information about CALAJECT™